Charging infrastructure means system equipment, such as electrical supply circuits, charging stations, control and management sets and such devices for data transmission, supervision, control and payment as may be necessary for charging service.
A charging station pool comprises a charging station associated with parking spaces, or several charging stations associated with parking spaces, supplied by a single delivery point on the public electricity distribution grid or by a single local energ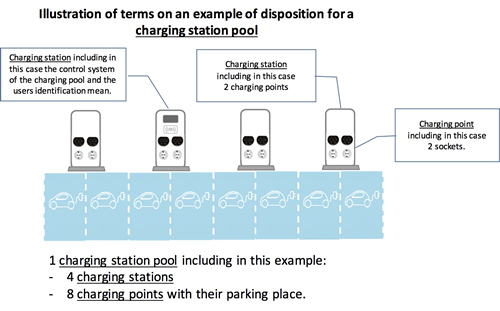 production or storage facility, and operated by a
single operator or group of operators.
A charging station is a fixed device connected to an electrical supply point, comprising one or more charging points, which is able to incorporate communication, counter, control or payment devices in particular.
A charging point is an interface capable of recharging a single electric vehicle at a time, associated with a parking space. It includes at least one socket for plug, and/or one cable attached with connector for EV (case for fast charging).
A charging pool network is a set of several charging station pools installed under control of a unique contractor owner.
A contractor owner is the main contractor for a charging infrastructure up until it comes into service, and the owner of the infrastructure as soon as it is in service.
A charging infrastructure operator operates charging stations on behalf of a contractor owner or on its own account. They also play the role of mobility operator if they offer users subscription recharge access services.
An e-mobility service provider is a provider for electric vehicle users, including services for access to recharges.
A charging operational unit is a charging pool network operated by a single charging infrastructure operator and accessible to roaming via a single IT connection.
Charging service roaming is the ability of an EV driver to use the charging points of different contractor owners in a transparent manner, i.e. accessing and paying for the service through the intermediary of his e-mobility service operator with whom he has a contract.
Access to charge is a physical or IT procedure enabling a vehicle to be connected to a charging point and be charged.